From new show home parades and phases to new parks and extended pathways, Legacy is becoming greater by the day.
The calendar summer is just around the corner and now is the perfect time to reflect on all things new and improved in our beautiful South Calgary community! Over the past couple of months, our construction crews have broken ground for some brand-new community development phases, parks and recreation, retail space and more. The abundance of life-saving amenities in Legacy is now greater than ever before and there's more coming in the following months. So, let's dive deep into What's New in Legacy!
Duplex Parade Now Open
Our collection of duplex homes has always been the most popular home type in Legacy. These homes always sell fast, and the supply runs low as soon as new lots are put up for sale. And this tremendous demand in no wonder: starting from only the $380s, the Legacy duplex homes are a perfect choice for young families and downsizers alike.
The next few rows of duplex homes will be located in one of Legacy's newest phases – phase 25. This phase is unique as it sits along our signature 300-acre environmental reserve and is a short walk to the Yellow Park and Legacy Village – one of Legacy's four commercial spaces. It also offers walking paths, gorgeous views and lots of greenery along the ridge of the reserve.
In May, our building partners Shane Homes, Trico Homes and WestCreek Homes opened six brand-new show homes. For home shoppers interested in touring one of them, we invite you to book your showing in advance. Call one of the numbers below to book a visit:
New Parks, More Pathways
This season, Legacy is greener and even more walk-friendly – and not because of the weather!
We are currently extending the pathway along the ridge in front of phase 14. Once finished, you'll be able to walk further along the ridge and enjoy even more nature, more scenery and more breathtaking views.
The Yellow Park is now complete and waiting for its visitors! Legacy residents and their guests can enjoy a basketball court, a modern and fun playground, many walking paths, benches and of course lots of green space.
A new park is coming to phase 25 making the entire area and future duplex homes even more desirable. The park will be located along the ridge and will feature even more greenspace, benches and a beautiful pergola to stop in for some shade Stay tuned for further updates!
Same Community Garden, New Location
This year, our famous community garden run and maintained by the Legacy Residents Association (LRA), has a new home. Located across from Legacy's green park and steps from the skating rink location, there's now more plots available for all to enjoy. For only $18 flat (or $34 for a bigger bed), you can grow your own produce or flowers (or both) without sacrificing your backyard space. The Legacy community garden is a wonderful way to meet your neighbours, spend good time outdoors and have much fun with your family. Head over to the LRA website to book your garden bed today!
Celebrate Summer, Celebrate Legacy's Lush Lawns
This summer only, our Legacy residents can get a chance to be nominated for the #LegacyYYC Grass Masters award! A new contest organized by the Legacy Garden Committee together with the Legacy Residents Association aims at recognizing all the hard work put into keeping the lawns lush and mowed.
Have you recently spotted a gorgeous, tidy lawn in our community? Email info@legacyresidents.ca with your name, the address you want to nominate and specify whether it's front or back lawn. Optionally, you can choose to remain anonymous. Event runs from June 1 to August 31. For more information about the contest, check out the Legacy Residents Association page on Facebook.
More Commercial Space, More Shopping Options
You can shop or get professional services from any of the following Legacy businesses:
Sobeys
Marble Slab Creamery
Starbucks
Dr. Bishop and Associates Eyecare
COBS Bakery
Servus Credit Union
KFC
edo Japan
BarBurrito
BMO
Canadian Pizza Unlimited
Liquorville
A&W
Subway
Spiritleaf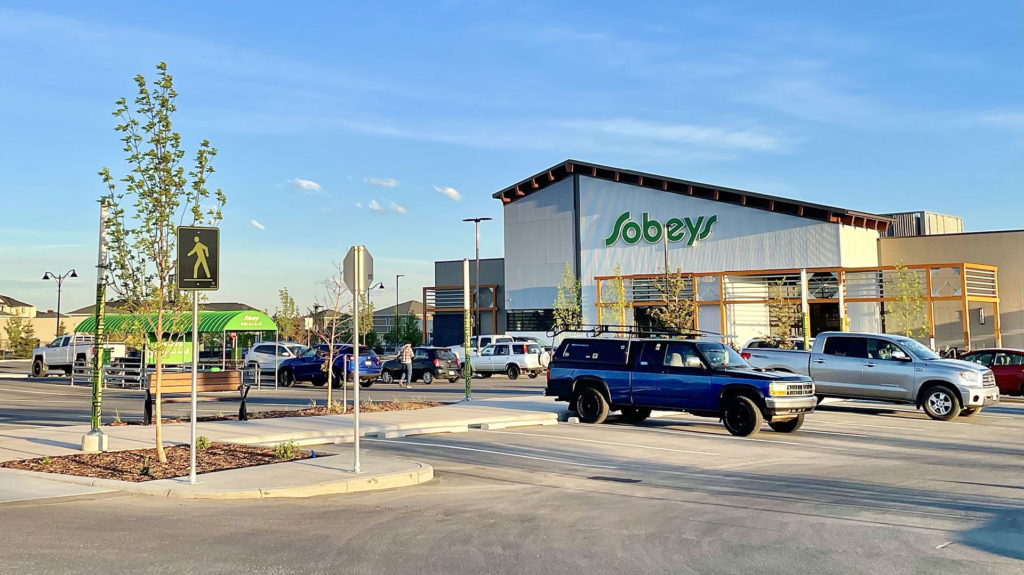 Looking Ahead In 2021
There's always room for improvement and Legacy is on the right track to becoming bigger, better, faster and stronger. This fall, we're excited to welcome new estate show homes in phase 14. We're also going to announce a new location for our move up show home parade soon.
Additionally, Legacy's commercial offering is set to welcome new retailers, dining, professional services and more in the coming months. Make sure to follow us on social media to stay up to date on news, events and further updates!
Reach Out To Us On Social Media