Being only steps away from an array of convenient amenities is the reality for the residents of Legacy! With more than 1.7 million sq. ft. of unique shops, services and restaurants found in our 4 distinct retail sites, shopping has never been so easy. Discover what happens when timeless design meets exceptional amenities, all in Legacy!
Township: Calgary's Newest Shopping Destination
Located on the corner of 210 Avenue and Macleod Trail SE, Township is Legacy's largest community hub! With a unique mix of retail, services, entertainment, local businesses and marquee outlets, Township offers a blend of carefully curated shops for you to enjoy.
A&W
Bank of Montreal
Bar Burrito
Bed Bath & Beyond
BK Liquor
BrightPath Child Care and Daycare
BuyBuy BABY
Canadian Brewhouse
Canadian Pizza Unlimited
COBS Bread Bakery
Diva Salon & Spa
Bishop & Associates Optometrist
Edo Japan
F45 Training
Jack's Nails
KFC
Marble Slab Creamery
Pho Hoan Pasteur
Pet Smart
Servus Credit Union
Sobeys
Spirit Leaf Cannabis
Starbucks
Subway
The Mash
Tommy Gun's Original Barbershop
Wine & Beyond
Winners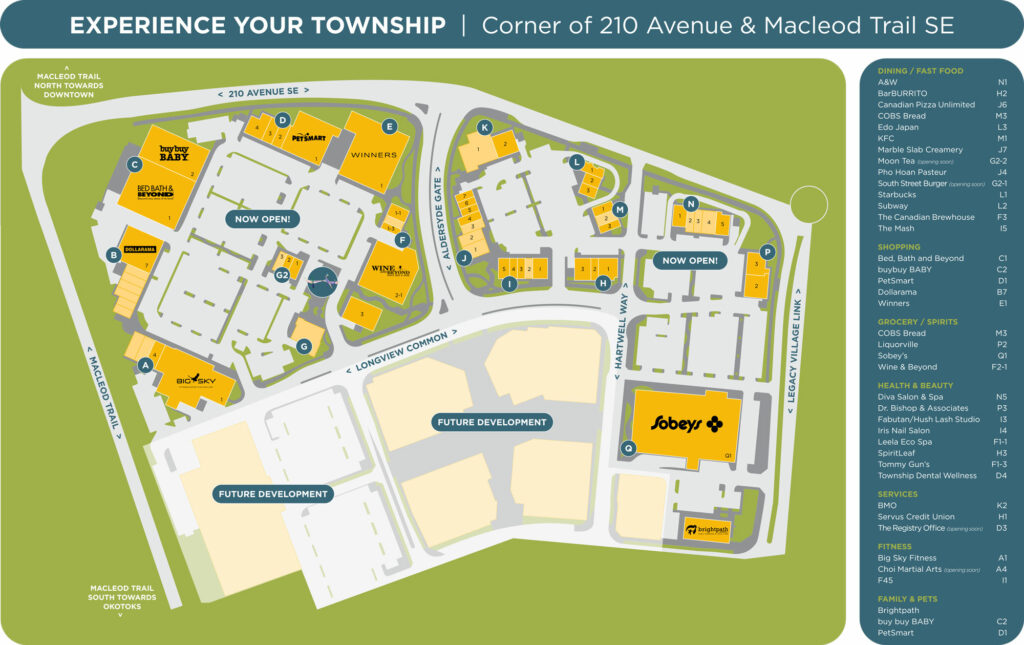 Legacy Corner: A True One-Stop Shop!
Fuel your car and your body for the day at Legacy Corner, the one-stop shop for all your to-go needs. Grab your prescriptions at your local drug mart or drop off your clothes at the dry cleaners as you pass by, Legacy Corner brings convenience in all aspects of your life in Legacy.
Bone & Biscuit
Dr. Bishop & Associates
Fine Dry Cleaners
Icon Dance Studio
Jaka Drug Mart
Legacy Barber
Legacy Dental Care
Little Caesars Pizza
Petro-Canada
Tim Hortons
Wisement Barbers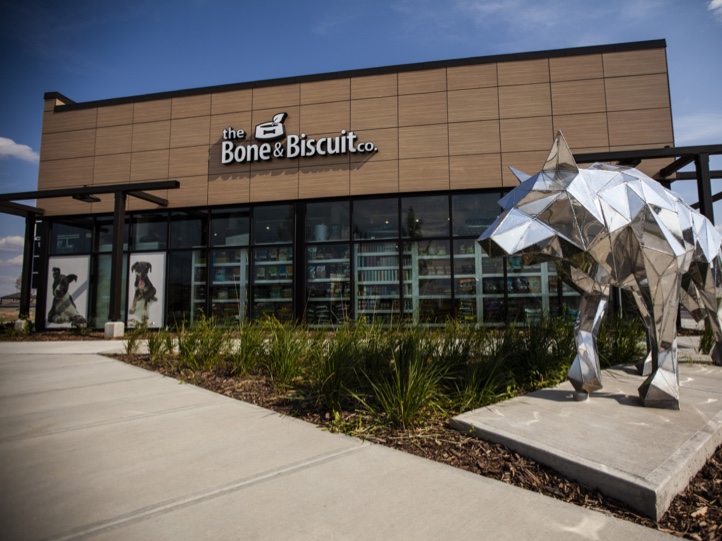 Legacy Grove: Giving you an Endless Variety of Choices
Enjoy a variety of local goodies in Legacy Grove! Located conveniently close to several daycares and All Saints High School, you can find an assortment of everyday shops and services including some deliciously unique food finds.
Jade's Meat Shop & Filipino Groceries
Liquor Barrel
New York Pizza
Curious Kids Learning Center
Jade's Head Shop
Legacy Grove Dental and Family Medical
Jon Smith Subs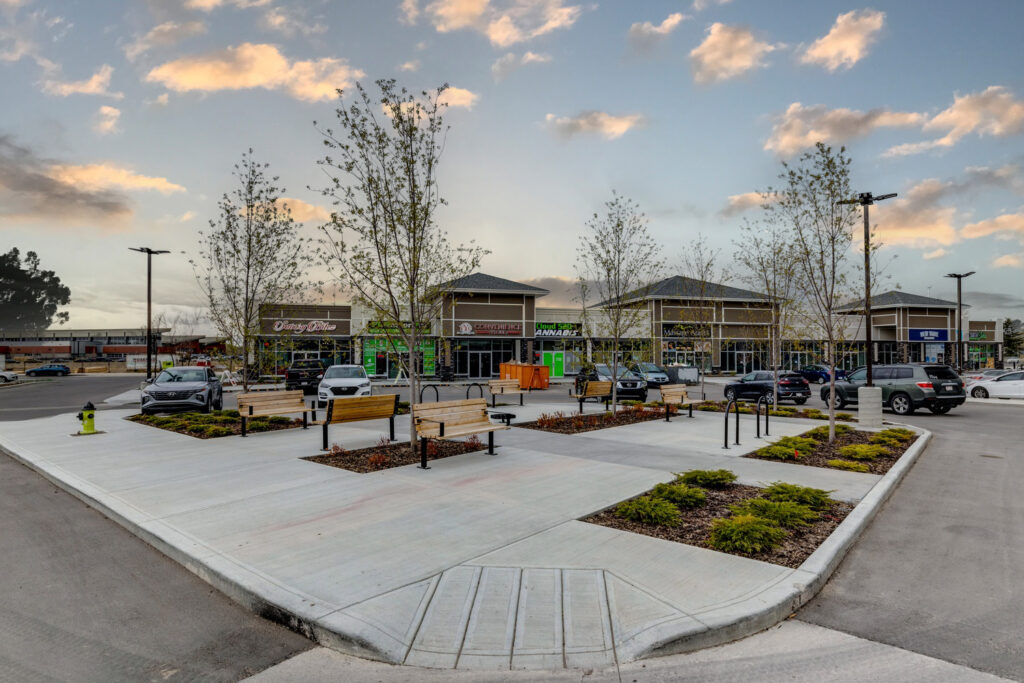 Legacy Village: Connected to the Community
Prioritize inner-city convenience with Legacy Village. Nested near parks and connected through a series of accessible interconnected pathways all within the community, Legacy Village offers you quick access to everyday childcare and fitness services to fulfill all of your family needs.
Blossom Heights Child Care Centre
Bobby's Pub
BrindleBerry Acres
Degala Restaurant
Domino's Pizza
Fitness 1440
Icon Dance Studio
Kumon
Legacy Allstar Pharmacy
Legacy Family Dental
Medistar Family Practice & Walk-in Clinic
Star Liquor
Sweet Rhapsody Bakery
Sweetie Nails & Spa
Tail Blazers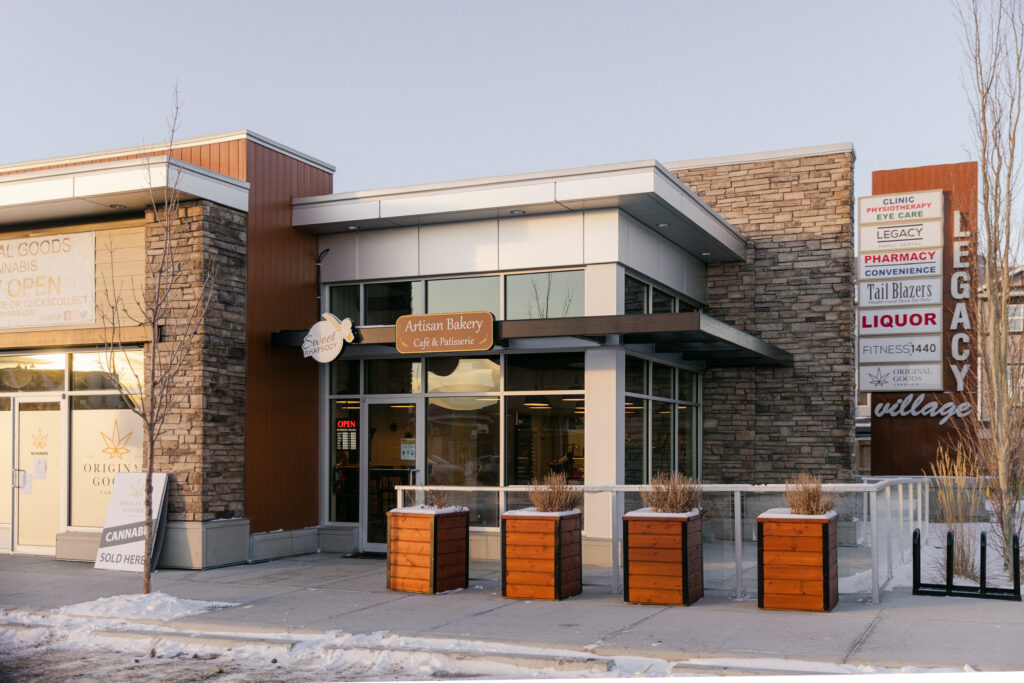 Legacy amenities don't end here! With local schools, green spaces, playgrounds, trails, ponds, a community garden and public art, there is so much to love so close when living in Legacy!

Follow us on Instagram and Facebook to get the latest scoop on Legacy community updates and promotions.