Is your family growing and your detached home is no longer providing enough space? Have your kids flown the coop, but you still want space for them to visit? Are you ready to build your dream estate home complete with customizations throughout?
Whatever your current lifestyle, or life stage, might be, when the time comes to start looking for a new front-attached garage, single-family home, the choices available can easily overwhelm you. With so many factors to consider, it can become difficult to find the perfect home that fits your desires, needs and budget.
Let's make finding your new home easier! Here, you'll find details on front-drive homes (sometimes referred to as move-up homes) and estate homes to help you during your search.
Location, location, location
No matter what type of home you are buying, location is everything. Luckily, Legacy has a wide range of desirable locations for both front-drive homes and estate homes.
For active families with younger children or teenagers, Legacy's front-drive homes are ideally located for meeting families at the park, catching the bus, taking a family stroll or walking to one of Legacy's commercial areas. Legacy also features front-drive homes that back onto ponds, park space and the coveted area called The Woods. This unique area in Legacy features exclusive front-drive home options like triple-car and extra wide garages, specially designed floorplans and models designed specifically for this wooded area. Still perfect for families or empty nesters, these front-drive homes provide an added touch of luxury while still staying within the front-drive price range.
Estate homes in Legacy are located in exclusive and unique areas of the community, many of which back onto green space and Legacy's 300-acre environmental reserve. While all homes in Legacy are within walking distance of parks, recreation and retail, the location of the estate homes provides added privacy, peace and quiet.
Customize to your heart's delight
While you can make many personalized design choices in a front-drive home, you are typically limited to how much you can do. These types of customizations are ideal for homebuyers who want a bit of a personal touch, but still want guidance from the home builder. With an estate home, your customization options are almost limitless with award-winning builders Crystal Creek Homes and Morrison Homes. If you are ready to build your dream home and make it something that is truly yours, Legacy estate builders can make that dream turn into a reality.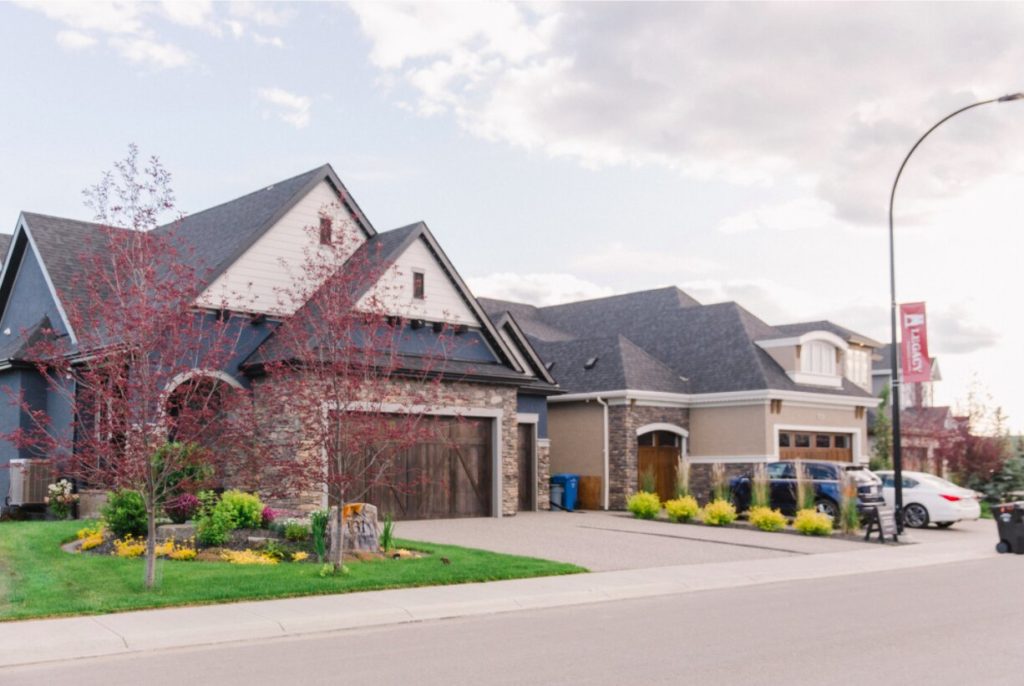 Lot Size
The biggest benefit of both front-drive homes and estate homes is the added outdoor space provided by a larger yard.
Legacy's front-drive homes also offer generous lot sizes and provide plenty of outdoor space, perfect for outdoor entertaining or a game of catch. There's even enough room for a garden.
Generally speaking, the lot sizes for estate homes are larger than front-drive homes, with Legacy's latest estate phase boasting the largest lots to date. At 50-feet wide, Phase 14 lots are 2 feet wider than any other estate lots in Legacy. Why is this important? The larger the lot, the greater your ability to customize your home with a larger footprint, triple-car garage, outdoor living space and enhanced landscaping.
Budget
Why are front-drive homes a popular choice? Simple: they offer plenty of space and living features at a great price. Is your family getting too close for comfort in your existing home and you need more space? Have your kids left the home and you need to downsize, but still want enough room for them and other guests to visit? Are you ready for more space, more luxury, but not quite ready for your dream home? If this sounds like you, then a front-drive home is a perfect choice.
Estate homes also provide plenty of space (if not more) and numerous features, but often come at a higher price point due to factors such as size, higher end building materials, finishings and customizations. Whatever your budget may be, you can be confident that you'll find the right fit with any one of our front-drive and estate home builders.
No matter your current needs, desires and budget, you can be sure to find the perfect home for your lifestyle in Legacy.